Vasyl Grigoriev
Lizard Soft General Manager
Microsoft Corporation, during the large-scale Microsoft 365 Conference held in May 2023, announced the integration of Copilot Artificial Intelligence with the SharePoint platform. The Corporation declared that with AI, SharePoint will become even more powerful, more intuitive, and have more expressive features, which will be much easier to use. «The vision aims to unleash millions of site owners, news authors, page creators, and portal administrators to write, brand, publish, and share content with ease,» Microsoft notes.
Let's quickly look through the new features of Copilot + SharePoint, announced by Microsoft representatives.
---
The announced improvements can be divided into several groups: new intelligent features of SharePoint; improvements in video hosting Microsoft Stream (the so-called «corporate YouTube»); updates in OneDrive; collecting and systematizing of data using Microsoft Lists; OneDrive and SharePoint content administration and security.
SharePoint new intelligent capabilities: AI works with visuals, text, and branding
Now, thanks to integration with AI, your SharePoint document or presentation easily turns into a web page with all the inherent features: visual content (images, videos, etc.) and text, which can also be enhanced with Copilot. At the same time, the User can choose the relevant tone of voice.
There is a wide variety of web design tools such as branding and theming, typography and fonts, grid and layout, video and imagery, and animations and motion.
In the new SharePoint Brand Center, you can specify fonts, colors, logos, and other design elements that reflect your corporate identity. They can be reused on different sites where branding is needed, and SharePoint will ensure that these elements are displayed accurately – without the slightest distortion. This way, website owners won't have to worry about following branding guidelines.
---
Microsoft Stream video hosting improvements: modern video design
The enhanced features have been added to the Stream video service such as transcripts, captions, chapters, sharing, background noise suppression, variable speed playback, and analytics.
The interface has become more convenient: now the Microsoft Stream web page displays single and multiple videos on SharePoint pages with folders and playlists.
In addition, there are templates for pages with videos. They can be created both from Stream or SharePoint.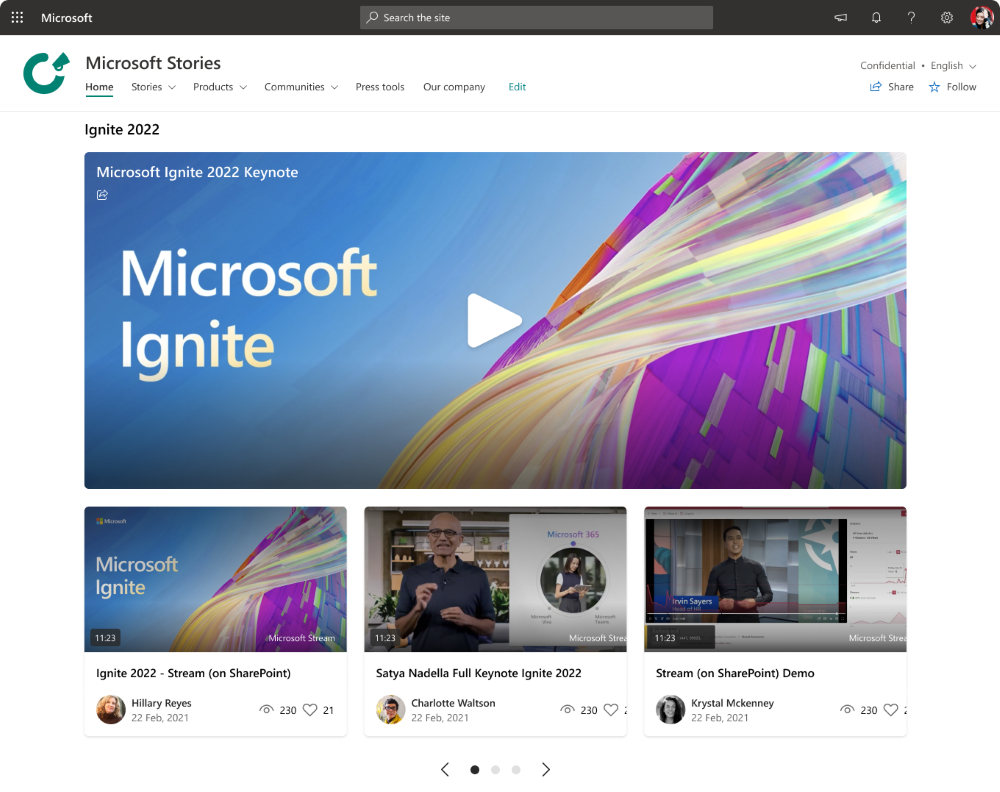 ---
OneDrive updates: fast, organized, personalized
First of all, the interface has been changed: now it's much easier and faster to find the necessary files.
In the Home tab, a For you segment has appeared, where the AI places the most relevant files for the User, stored in OneDrive. Systematization of documents is available in several ways: there's a space for all shared files no matter when a from what location they were shared; the list of people with whom files were shared is sorted separately, so now you can search for documents through persons who shared them; the Meetings section appeared, where all documents from the meetings are placed; it's also possible to filter the search by file type (Word, Excel, PowerPoint, PDF).
Soon there will be a possibility to change folders' colors for even better systematization of data. Files marked with a star will also appear in the Favorites tab so that you can find them even faster. Another feature that is promised to arrive soon is easier and clearer file sharing with fewer clicks and a clear confirmation that the link has been copied (we've all had the experience of clicking «Copy» several times without noticing the confirmation that the link has already been copied).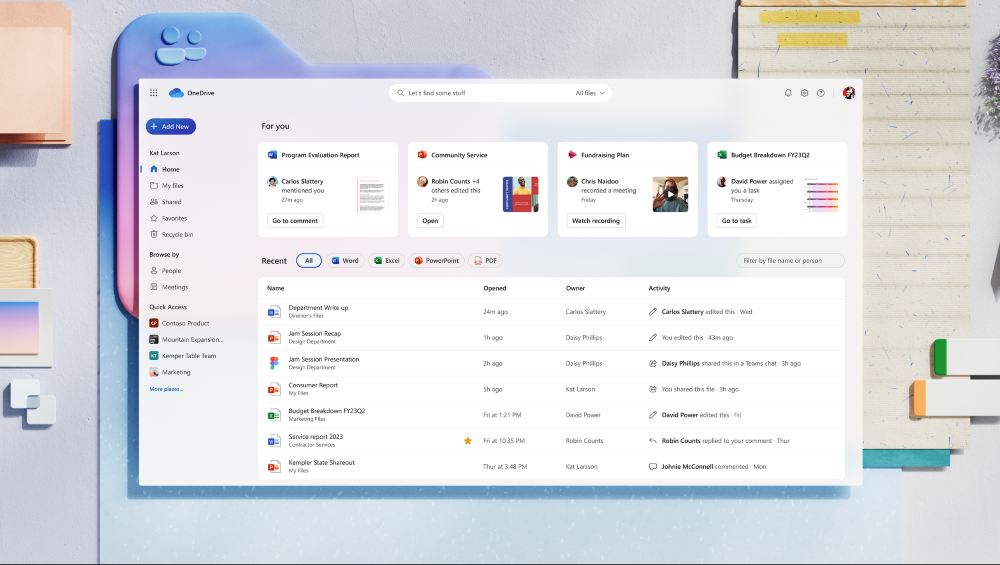 ---
Microsoft Lists: data collecting inside and outside the company
Microsoft Lists allow teams of any size to track progress, share resources, and organize information through the flow of work. This includes collecting feedback, reporting issues, planning events, and many other scenarios where information often comes from multiple stakeholders. From now on, according to the Corporation, the intelligent app for tracking information in Microsoft 365 becomes faster, smarter, and easier to use.
First of all, Microsoft emphasizes, Lists now load much faster everywhere: in the browser, PWA (Progressive Web App), and Teams. At the top of the page, you can now see images of those who are working on this list at the same time as you. New filters have appeared. The ability to create and edit lists is now located in the center of the screen instead of on the sidebar, making it easier to perform these tasks.
Microsoft Lists now has built-in registration forms, separately for external and internal users. Forms can easily be made relevant, professional, and visually attractive with custom logos, titles, descriptions, and user-friendly questions instead of column titles. Unnecessary fields can be hidden. It's also possible to add new fields.
It's expected that it would soon be possible to package Microsoft Power Automate processes in the Microsoft Lists template.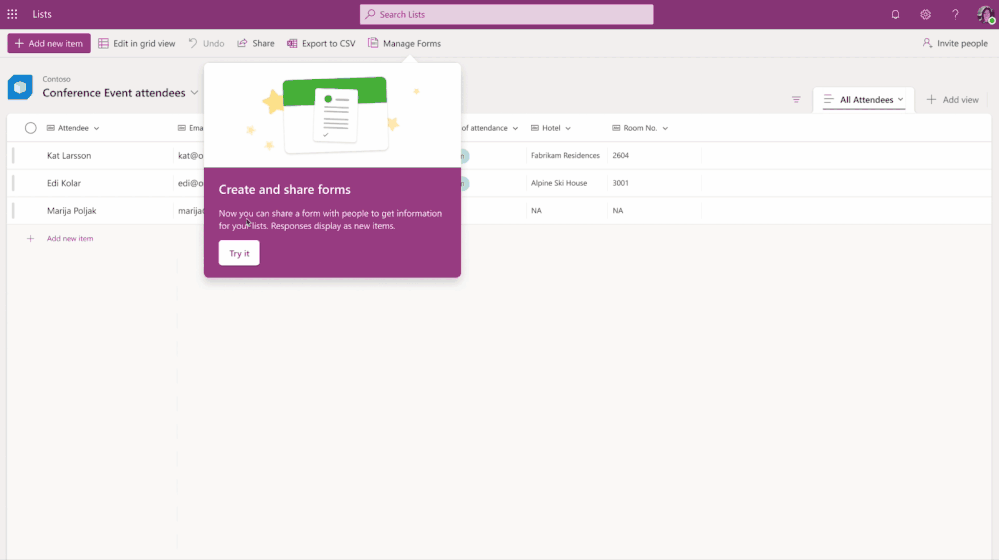 ---
OneDrive and SharePoint data administration and security: SAM
SharePoint Advanced Management (SAM) is a Microsoft 365 add-on that provides a suite of features that can help you manage and govern SharePoint and OneDrive, as well as enhance Microsoft 365 secure collaboration capabilities.
Microsoft recognizes that one of the biggest concerns (especially while remote collaboration and data exchange) is that despite the right intent, users mistakenly share content with a broader audience which often results in unauthorized access to content. Therefore, the Corporation introduced a SharePoint data access governance policy that means access control for SharePoint sites. So, you can now restrict access to any SharePoint site, be it connected with Teams or Microsoft 365 Groups, only to the existing members of the parent Microsoft 365 group or a security group.
Additionally, SharePoint provides for the scenario where two or more companies merge and a quick and efficient migration of site content between clients becomes necessary. SharePoint Mergers and Acquisitions (SharePoint M&A) performs this task. The advantage of this approach is that the user experience will be seamless at this time: for example, old links to files will still work.
---
These updates will soon appear in our Customers' SharePoint Online.
As one of the first in Ukraine to receive these improvements, Lizard Soft is already working on integrating these innovations into our products. This way, our Customers would be able to fully enjoy new features as soon as they become available.
AI tools are constantly being improved. And the business processes automation, which yesterday seemed difficult and required custom development, can be possible today with the help of standard Microsoft 365 tools.
Please, do not hesitate to contact our specialists: we can help you start optimizing your processes now to prepare your Microsoft 365 tenant for future changes.
According to Microsoft.com