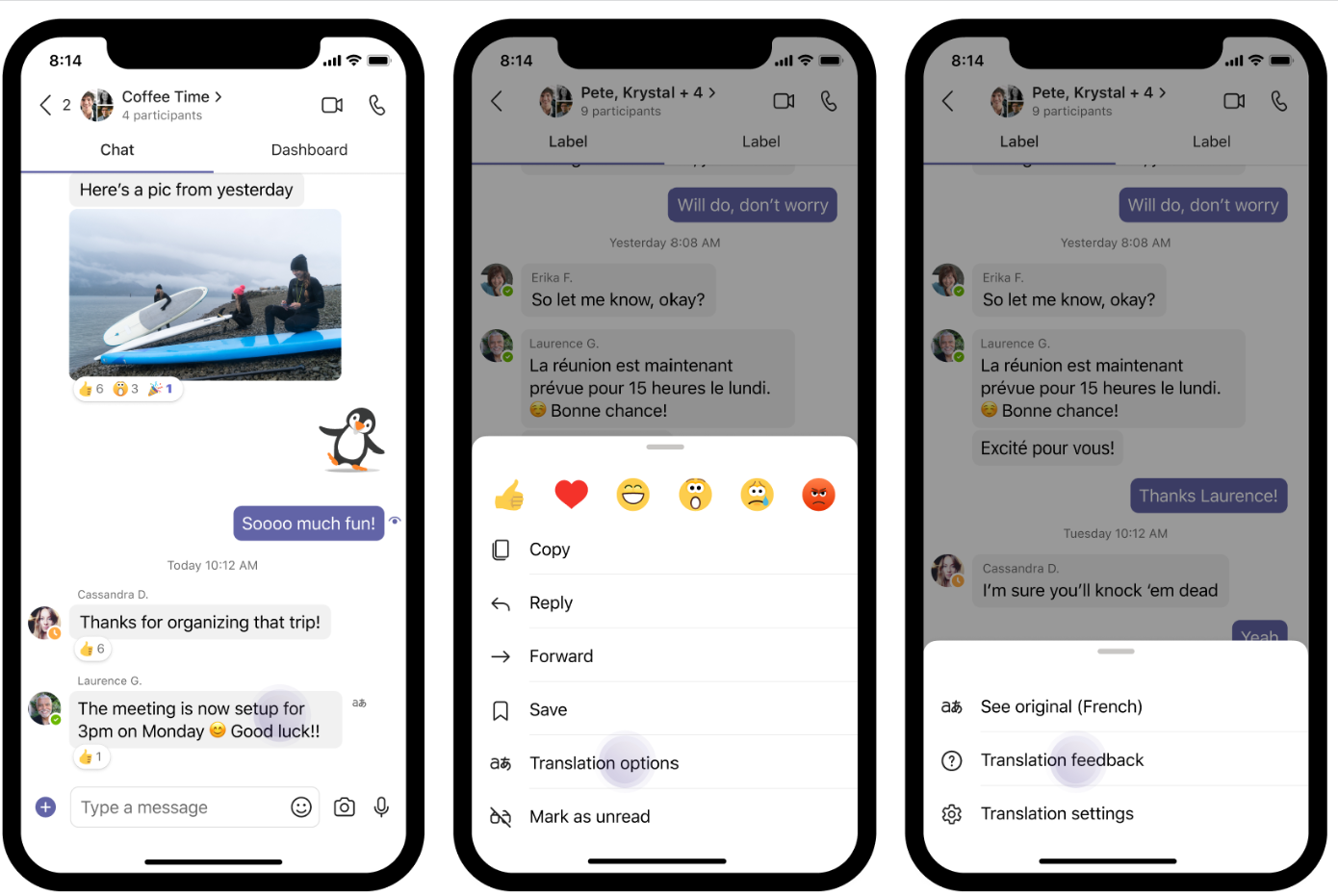 Microsoft\'s Teams Mobile and UniBot by Lizard Soft to automatically translate foreign language messages
From the beginning of August, Microsoft Teams Mobile, an application that the Lizard Soft company offers to its customers in Microsoft 365 packages, will be able to automatically translate a message for the user if it is received in a language they don't understand.
The new intelligent translation option will work on iOS and Android platforms.
As soon as the user receives a message in a «non-native»language, Teams will offer to translate it into the preferred language: there will be an inscription «Translate | Never translate French | (?)» that appears under the message regarding French, for example.
Once clicking «Translate», the user will see the same message in the selected (set) language.
However, the options for action did not end there. By long pressing on the message, you can go to the «Translation options» menu and use one of three options: «See original», «Translation feedback» and «Translation settings».
The first option («See original») will revert the message back to its original state. The second («Translation Feedback») will redirect to the interface where you can, but not necessarily, leave feedback on the quality of the translation. With the help of the third («Translation settings»), you can change the translation settings.
If the user does not need translation, for example from French, they can click «Never translate French». Thus, this language will be automatically added to the list of understood languages.
By clicking on the question mark (?), the user will be able to leave feedback on how well Teams determined the language in which the message was sent.
After the user's first consent to automatic translation of a foreign language message, Teams will offer to translate the rest as well. As soon as the user receives a message in a «non-native» language again, a pop-up window will appear on the phone screen with the offer: «We'll automatically translate messages you receive in other languages. You can change your preferences in Settings.»
By clicking «Yes», the user will configure Teams in such a way that from then on every message in a «non-native» language will be translated. If this time the user does not want to enable automatic translation, they click «Not now». And then a re-offer for automatic translation will be sent from Teams after a few manually enabled translations.
IMPORTANT: thanks to the same update, users of the UniBot Chatbot by Lizard Soft will also be able to receive information in the most convenient language for them.

Subscribe to the news
Subscribe to our email newsletter so you don't miss important news from our company