Reading time
---
What now
I am nowadays in Ivano-Frankivsk, staying at my friends'. They are now outside of Ukraine, so they allowed me to stay at their apartment for a while.
There's a lot of greenery around here, the air is clean compared to Kyiv. Here's very unusual weather: heat quickly changes to cold and vice versa. Local picturesque rains are almost tropical downpours.
There is almost no sense of war here.
---
«Unlit, uncivilized province»
The first thing I encountered when I arrived in Frankivsk (it was around 3 am because the train was very late) was that the lights were off in the whole city. I couldn't call a cab and still didn't understand what it was all about. There were about thirty other people standing around, also trying to call a cab. So I decided that I'd rather walk.
And these 40 minutes of walking in total darkness really impressed me: I thought that there was some kind of unlit, uncivilized province.
"And then I realized this is what the curfew and light masking looks like in Frankivsk."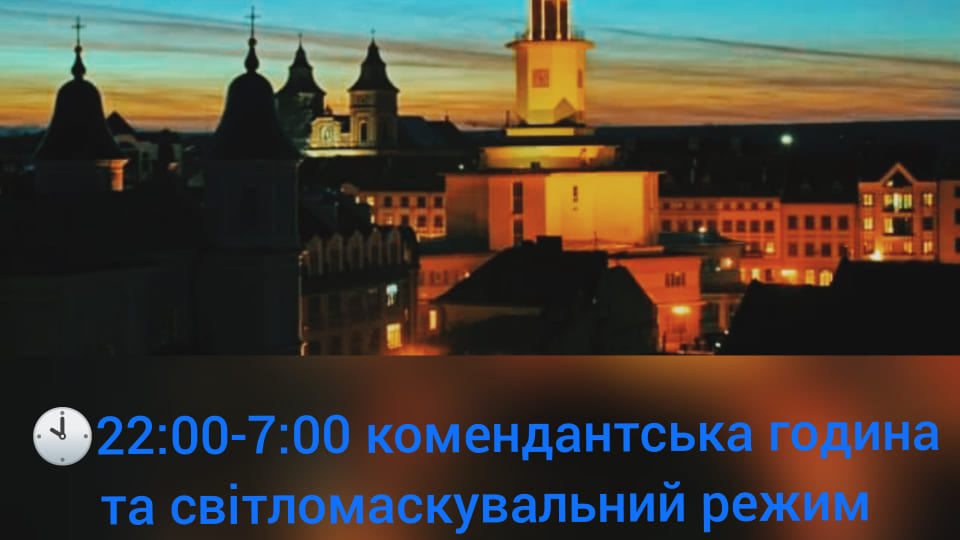 ---
Before the big war
My life before the massive invasion was quite measured: from home to work, from work to home.
I devoted some time to my physical shape, so I really liked walking home from work. If I had to work on weekends, I could also walk to work, it's about 8 km. And another 8 km to get home.
"So not only I kept myself in shape, but also systematized my thoughts."
---
The plans for a peaceful 2022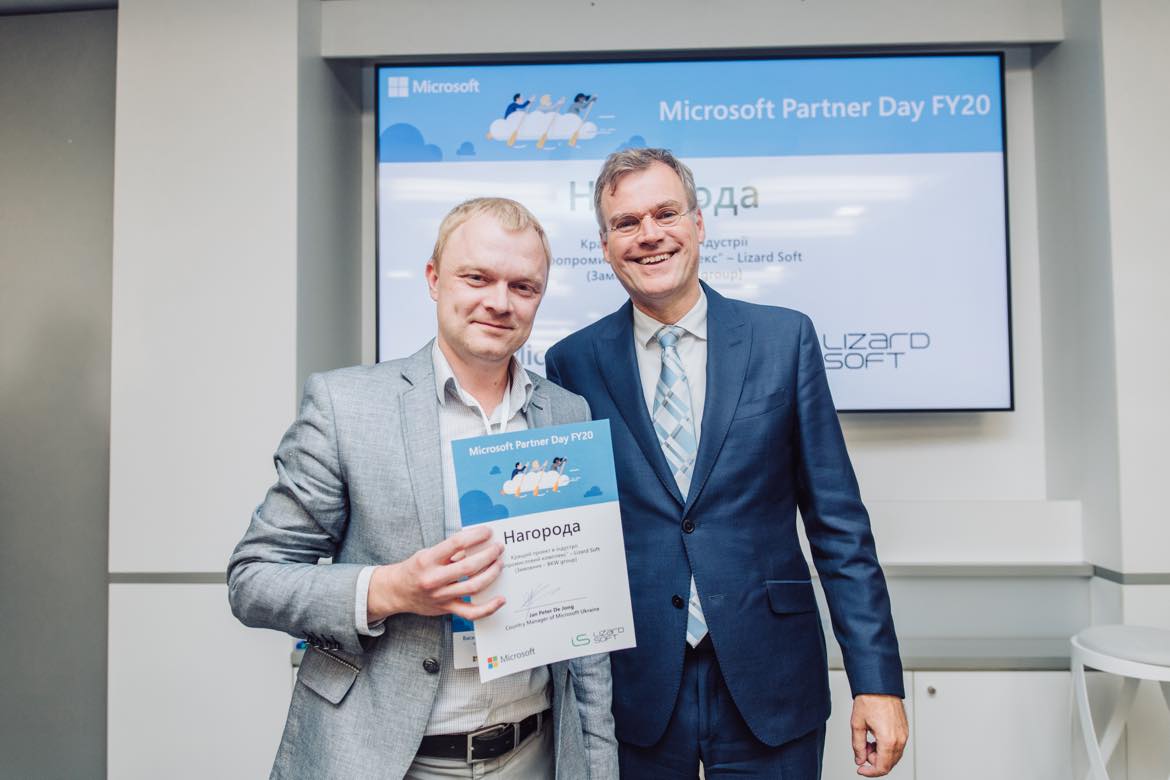 "We ended 2021 quite well. I'd say it was one of the most successful years for the Company. So we made up ambitious plans for 2022: we expected to start expanding to neighboring countries."
Of course, we're not talking about the russian federation – we stopped cooperation with them back in 2014. We have never worked with belarussia.
At the same time, Kazakhstan, Armenia, and Azerbaijan were seriously considered. Those russian-speaking markets looked quite promising for our consulting services.
We wanted to replicate our product line in Europe. In the USA, we already have a representative office and several projects in progress.
It was planned to open the office in Europe. By the end of this year, we should already have registered the company and signed several agreements.
There were also ambitious plans for the Ukrainian market, where we are most represented. Firstly, a certain redistribution of this market was planned. We wanted to get a larger share of it. Secondly, the market itself should grow by an estimated 50%, and organically we also planned to grow.
---
The black swan
During the life of our Company, this feeling that we're on the verge of something great, I had in 2013 the last time. We also finished it very, very well. I had crazy plans for 2014.
But it turned to be the most difficult year in the entire history of the Company's existence. And we reached the level of 2013 in 2017-2018 only. It took several years to eliminate the challenges that 2014 created for us.
"So at the beginning of 2022, when I looked at our ambitious plans and numbers, a thought flashed through my mind: «What could destroy our plans this time..?»

It was the big war."
(author): You didn't foresee it?
The massive invasion wasn't obvious to me.
I started studying the issue of the probability of war as early as December 2021. Almost every week I read analytics, experts' evaluations.
At the beginning of January 2022, I got the impression (even though I don't know much about military matters) that the full-scale invasion, which the USA and Great Britain warned about, would be a huge gamble for russia. And it will not be possible to achieve russia's political goals.
So why start all this?
I had a 100% feeling (we're talking about the beginning of January 2022, when NATO «negotiations» with russia were still going on) that there would be no invasion. Because russia won't get any profit from this.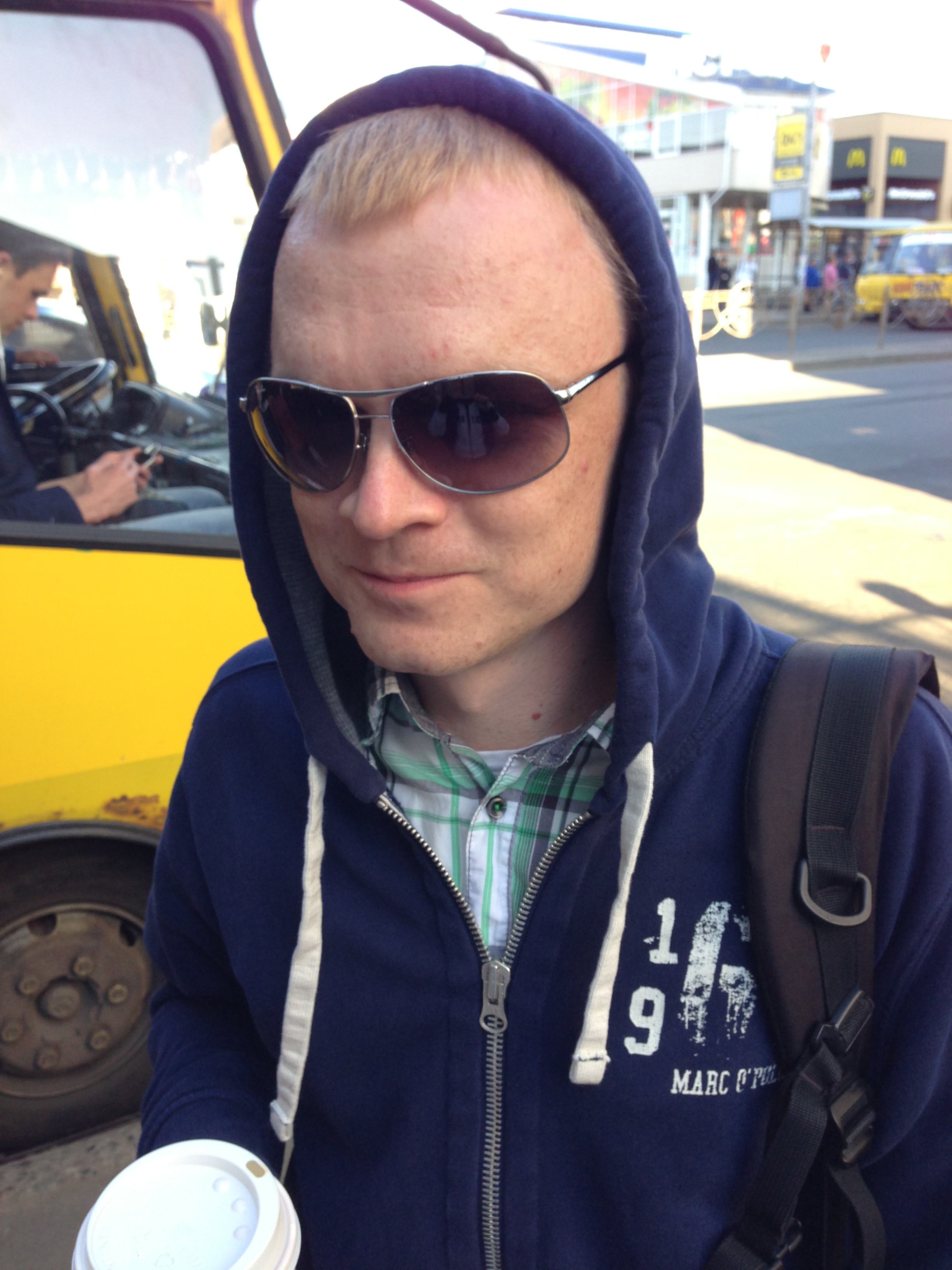 (author): You said that 2014 was the most difficult of the entire time of the Company's existence. What about 2022? Is still too early to assess, or is it really easier?
"2014 was more shocking as it was the crushing of dreams. And it prepared me for 2022 when subconsciously I already assumed that everything could not go according to plan."
Closer to February 24, I was ready not only subconsciously, but also morally.
---
The «What if» plans
We started preparing at the end of January – the beginning of February. Together with Ihor, Vitaly, and Ilya, we developed the «What If» action plan, which we called Plan B.
Its main points were about how to ensure business continuity. How to distribute financial flows. Where our accounting department, statutory documents, and seals would be located. How to organize document flow. What would happen to our infrastructure, which is quite dependent on the servers located in our office. How we'd pay the salary. How we'd communicate with Customers. How we'd work, finish our projects. Where office B would be located and how we'd evacuate people if it was needed.
"We worked out this complex of measures rather for self-satisfaction. After all, none of us believed that a large-scale invasion would happen."
---
Casus belli
When the probability of aggression began to seem to me much higher, I decided for myself that I would not take any premature steps until the casus belli happened.
And from its inception, I thought, several days should pass before the start of a large-scale invasion. So we'd have enough time to secure both the Team and the infrastructure.
I saw such a casus belli in the escalation in the so-called "dnr/lnr": increased shelling, evacuation of the people there (ed.: on February 18, 2022, the heads of the self-proclaimed dpr and lpr announced a mass evacuation of the local residents to russia due to the alleged «threat of attack from Ukraine»).
"This became a strong signal for me: we had to expect something serious. But I was sure that this «serious» thing would happen only in the eastern regions of Ukraine."
I spoke with our accounting department this past «peaceful» weekend. At that time, I strongly recommended them to leave Kyiv and temporarily relocate to Ivano-Frankivsk. But they refused because they did not consider this threat to be significant.
We agreed that we should be ready for any development. Therefore, everything we need for remote work (not only laptops, but also seals, documents, flash drives with Digital Signatures) we distributed among ourselves, clarified who has what, and decided that we will relocate to the same place.
We took this all with us every evening. And brought back to the office every morning.
Therefore, on February 24, we no longer went to the office: we were fully prepared for evacuation.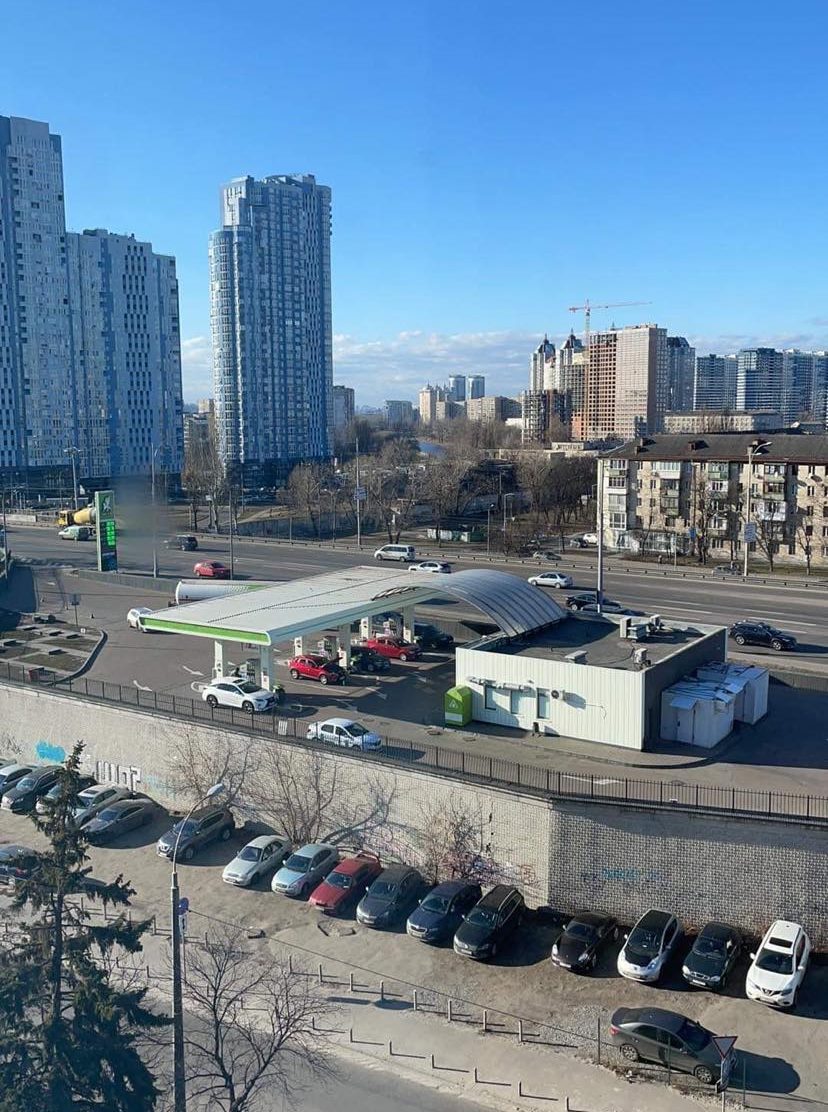 ---
February 24
Like most Lizards, I woke up to explosions early in the morning. And did not believe in them. And even when I saw this news on «Ukrainian Pravda» (ed.: online news resource) under the heading «Putin started a war», I did not react accordingly. Because I saw the same headline in 2014.
"But when I watched the first 30 seconds of the Kremlin d*ckhead speech (ed.: putin's address on the start of the «military operation» in Ukraine, published around 4 am Kyiv time on February 24, 2022, in the media), I realized that things got to be very serious. So I began implementing my own Plan B immediately."
I booked a train ticket to Ivano-Frankivsk, booked a hotel. As of the morning of February 24, this could still be possible to accomplish.
I packed my «alarm suitcase», which contained all my documents and those of the Company. Made up some things. And already at 7 am, we had our first call with the directors.

---
«A certain understanding of what had happened came to me in the evening»
We clarified the current situation: who does what, what personal decisions could be made. Some decided to evacuate immediately, others stayed in Kyiv and waited.
"We talked about duplicating functions in case someone stops communicating. Yes, we prepared for human losses as well. I'm incredibly glad that my biggest fear didn't come true."
A certain understanding of what had happened came to me in the evening. After I completed the first video message on Teams for our Team. I turned off the call and... (ed.: Vasyl falls silent for a while, trying to find the right words)
"...It is difficult for me to evaluate and describe my emotions at that time. I still didn't understand: how could this happen?! This should not have happened! Logic said that it was absurd, it was impossible!

But this «impossible» happened not only to me."
The very first night, I tried to fall asleep under the cannonade of our Armed Forces fighting in Gostomel (ed.: the airfield in 10 km away from Kyiv that occupants tried to capture in the first days of the massive invasion).
---
«I woke up every morning with the thought that it will stop soon»

Like this – when you do what you've planned, but still can't believe what is happening around you, and you feel like you've got through the Looking Glass – I remained probably for a week or a half.
"I woke up every morning with the thought that China will join in, Turkey will join in. Something will happen and it will end. This cannot last long! We are in the 21st century when this is impossible between civilized countries! And it will stop tomorrow. It will stop the day after tomorrow. The day after the day after tomorrow."
The feeling that this was for a long time came to me already in the second week of the big war. And then I began to execute the second part of our Plan B, the unplanned one. Because Plan B didn't go according to plan from the very beginning (ed.: laughs).
---
«It was impossible to predict»
None of us had ever had such an experience in our lives.
"And to predict that, for example, not a single realtor we contacted before would be able to get in touch during the first days of the war (ed.: to resettle the evacuated Lizards in other cities of Ukraine). That on the second day, when we scheduled to evacuate our equipment, it would already be so dangerous in Kyiv, that people would simply refuse to go there, it was impossible to predict."
Just as it was impossible to predict that the russian troops would reach Mariupol so quickly. It was the siege of Mariupol that was one of the triggers mentioned by some of our employees as the reason for the quick evacuation. And this happened already on the third day.
And literally, two days after the start of the big war, evacuation from Mariupol was, if not impossible, then extremely dangerous. It was almost impossible to predict.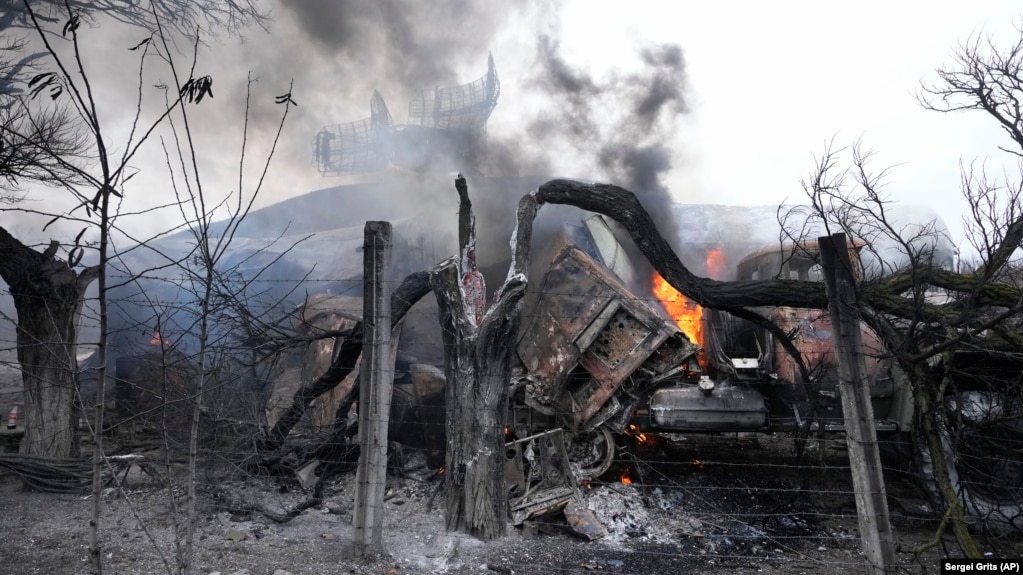 ---
The first decisions of the Company
We started implementing the stages of our Plan B even before February 24. Therefore, as of the 24th, everything that would ensure business continuity was with me.
One of our first decisions, even though the value of money has increased significantly, was to support our colleagues. Therefore, it was immediately agreed to pay the Lizards their salary in advance. We even paid a little more than we should have as there was no time to count accurately.
"We wanted our employees to have free hands regarding their further actions. This was very important for us."
We immediately created an «operational headquarter» to where information from all employees was sent: where they are, how they are, what they need, how we can help.
That's why we named our headquarter "Helping Lizards".
This «alarm» chat in Teams existed for a month and a half.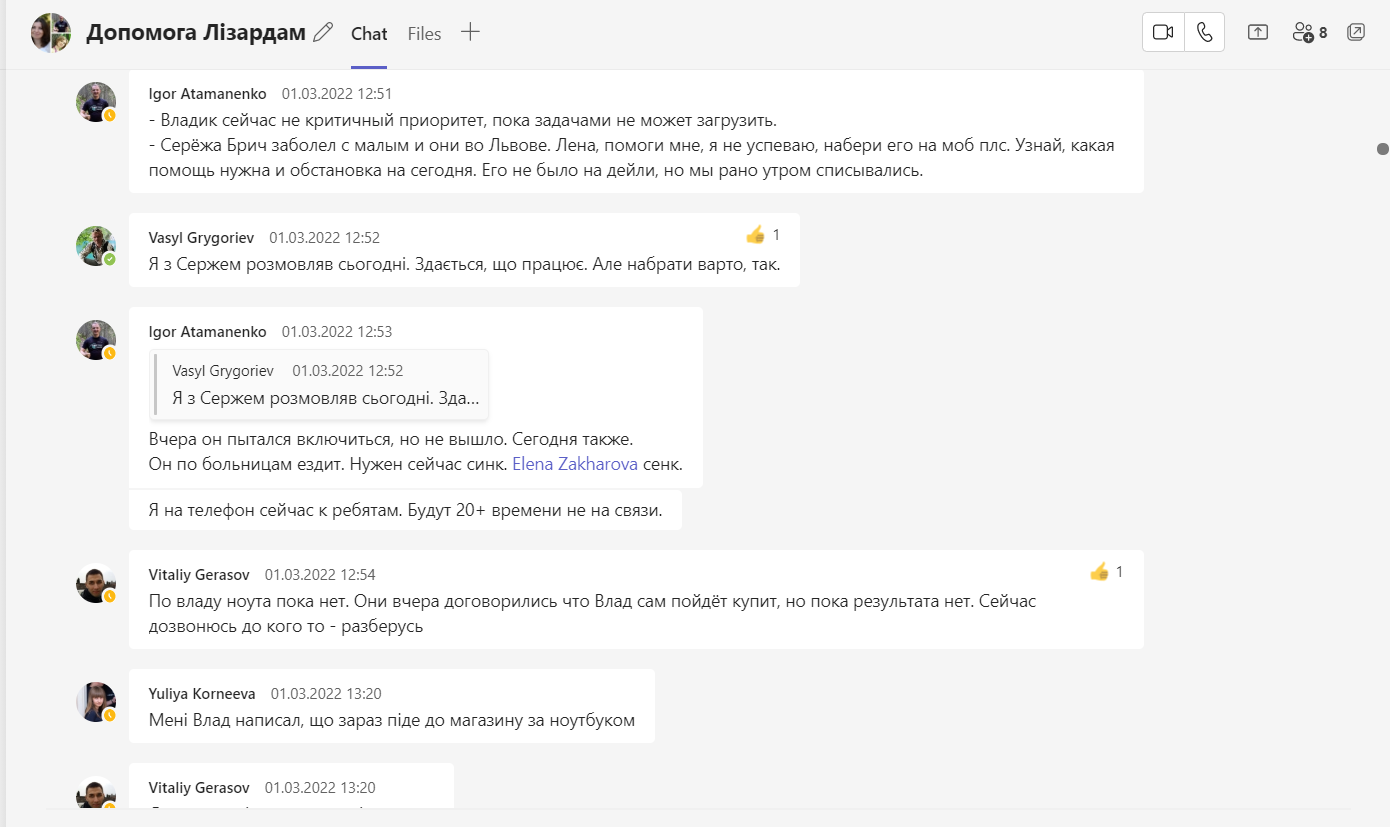 ---
First week
For the first time in my life, I really regretted not learning how to use a weapon. Because then I was sure that the only way I could help these people, help Ukraine, was to take up arms and go to the front line.
But I understood that as a military unit I am nobody. And this thought pressured on me the hardest.
"At the same time, I tried to fulfill my tasks: to keep business processes and communications in the Company under control."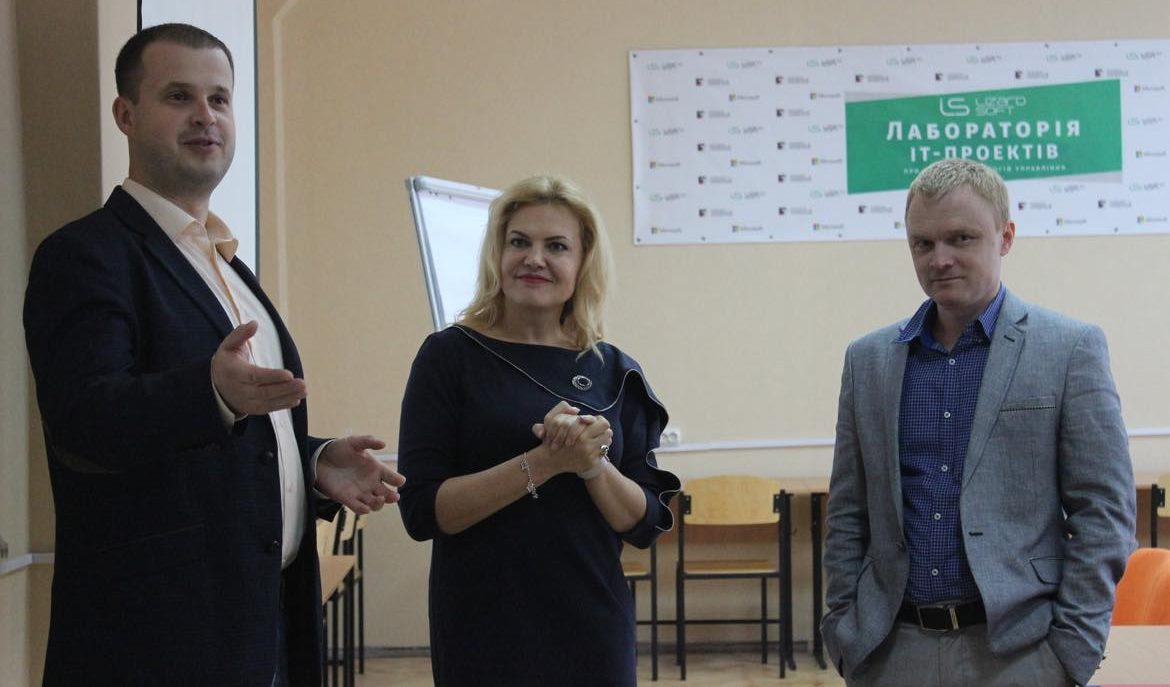 ---
Read in the Part II
«This information spread throughout the market, and many of the Clients took it as a signal that they could not pay.»

***

«The result of the work of the second-third week of the war was our updated cash flow, a table with our projected income, with updated commitments from our Clients, with significantly optimized expenses. And this sign calmed us down a little.»

***

«The emotional outburst we felt when we found out that Lera had left Mariupol is difficult for me to even express. It was the first feeling of happiness since the beginning of the big war. It was quite a strange and unusual feeling, which I had already forgotten at that moment.»

***

«Our expansion into the European market will have to be significantly accelerated. After all, the long-term prospects of the Ukrainian market are still vague.»

***

«The first thing I'm going to do is crack open that damn whiskey! Now it's a symbol for me of what I did wrong before the war.»