Reading time
---
What now
I returned to my hometown, Zvenygorodka in the Cherkasy region, with a population of 20,000 people. A small quiet town. I grew up here, I know every nook and cranny.
My parents own a house on the bank of the river, which cannot but rejoice because there's a forest area across the river. For me, a person who used to leave my apartment in Kyiv once a week to buy groceries for the week and sit at the computer for 12-16 hours, this is such a good addition to everyday life.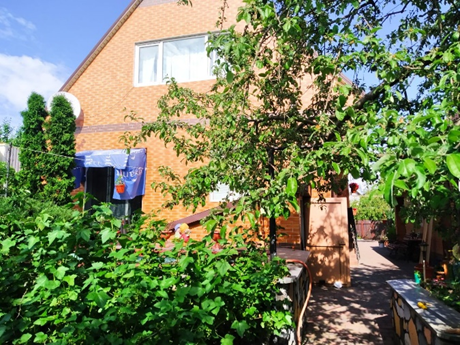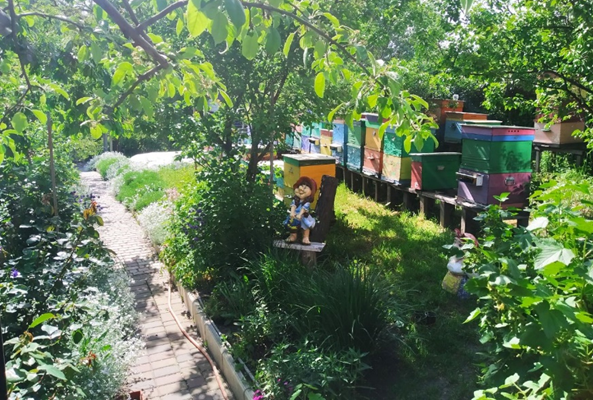 ---
Before the big war
"I am an introverted person. Communication takes more energy out of me than I wanted. Therefore, I had no nightlife, I didn't go to bars, clubs, cafes. I rarely went to the cinema, seldom to the theater. I spent most of my time at home."
I either worked or was engaged in my hobbies: computer games or an army of miniatures that I collected. These are little soldiers.
There is a Warhammer game system, made by guys from Britain. It is super mega popular among – I don't know the decent word for them – let's call it «nerds». I'm one of them.
These are super mega cool sculptures, you have to glue and paint them yourself. So it took a certain part of my time as a hobby.
Just before the russian swines invaded us from abroad, I finally assembled my first more or less proper army and planned to go to a club in Kyiv on February 27-28 and play by this army with people like me. It didn't work out.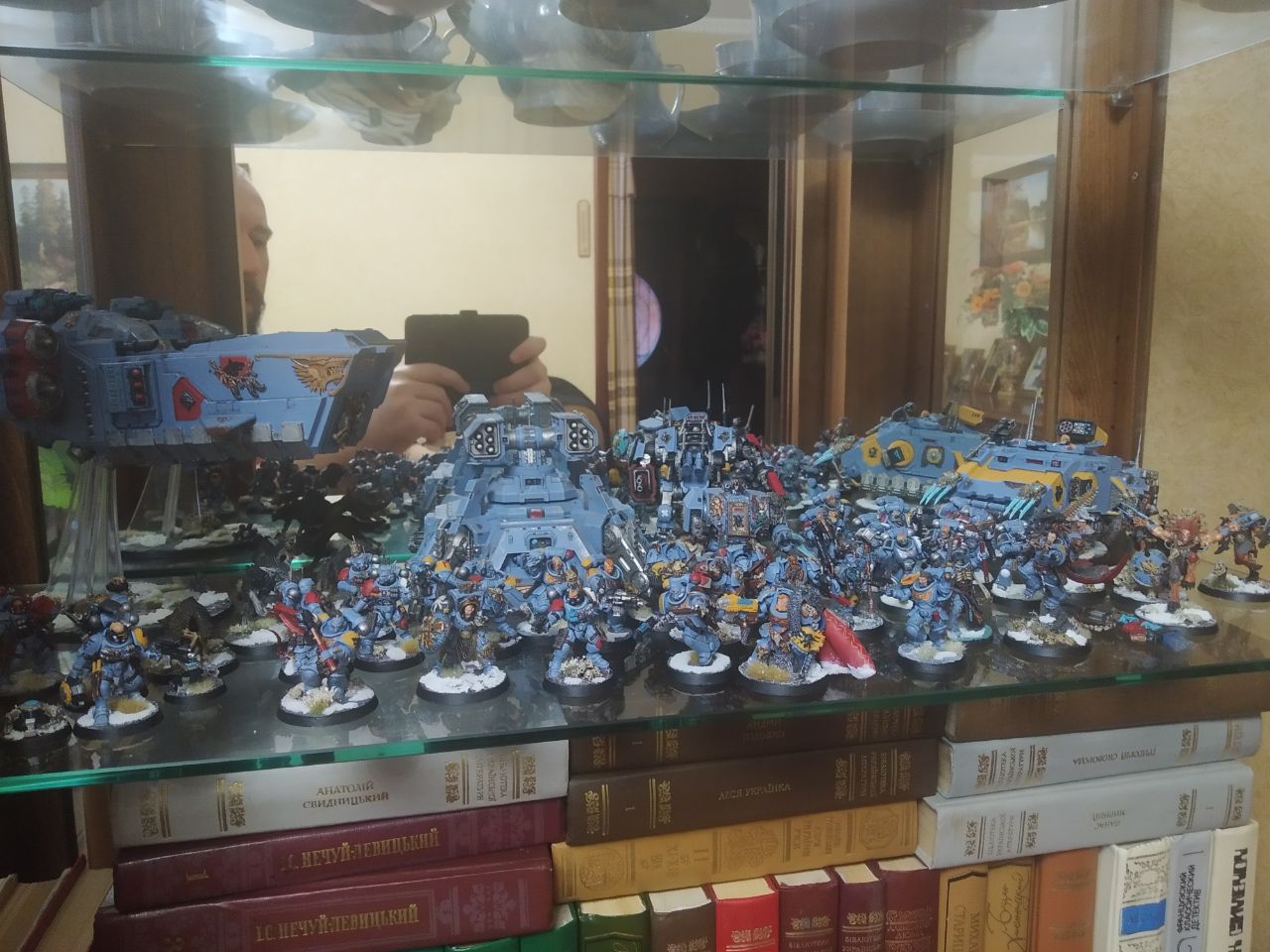 ---
Dreams
One of my biggest dreams was to buy my own home, to arrange it the way I would like, and to keep on living such a cool life in my comfort zone and not get out of it if possible.
"The comfort zone has moved a bit. After our Victory, as now all the money goes to the army, I will try to arrange my life here, in a small district center without McDonald's."
But, I think, I will survive.
---
February 24
Since I work with Clients from the USA, Australia, and in general I am a «night owl» (for me the day is a boring time when I fall asleep at every step. And I hate to wake up, especially in winter). Usually, I fall asleep at 5-6 am. And I wake up at 2 pm when my official working day begins.
And then, when I was going to bed, I went to brush my teeth. And when I came back to turn off the computer, I saw that Twitter was doing something strange for 5 am: there were a bunch of messages.
I started reading them: someone had posted a video message of that russian d*ckhead (ed.: russian president putin). At the same time, while watching it, I started to hear distant explosions somewhere on the outskirts of the city.

---
«Then I've got really scared»
I lived in Kyiv at Holosiivska subway station, that's the southern part of the city, relatively far from the main events. My girlfriend was also awake.
"We started packing our backpacks because we didn't have any «alarm suitcases» – I, like many Ukrainians, absolutely did not believe that a full-scale offensive was possible. I still thought they were flexing muscles, trying to put pressure on us. I was wrong."
I went into another room (we rented an apartment in Kyiv for two, one room was for my girlfriend and me, and the second room was for my best friend from school). We pushed him up, but he didn't really get it. We asked him to start packing and go to the shelter. He said that he still wanted to have some coffee.
We went down. At first, we planned to go to the basement of our apartment building, but my girlfriend persuaded me to go to the underground subway station. It's good that it's a 2 min walk from the entrance of our house.
"Halfway to the subway station, something exploded above our heads and sparks flew around us."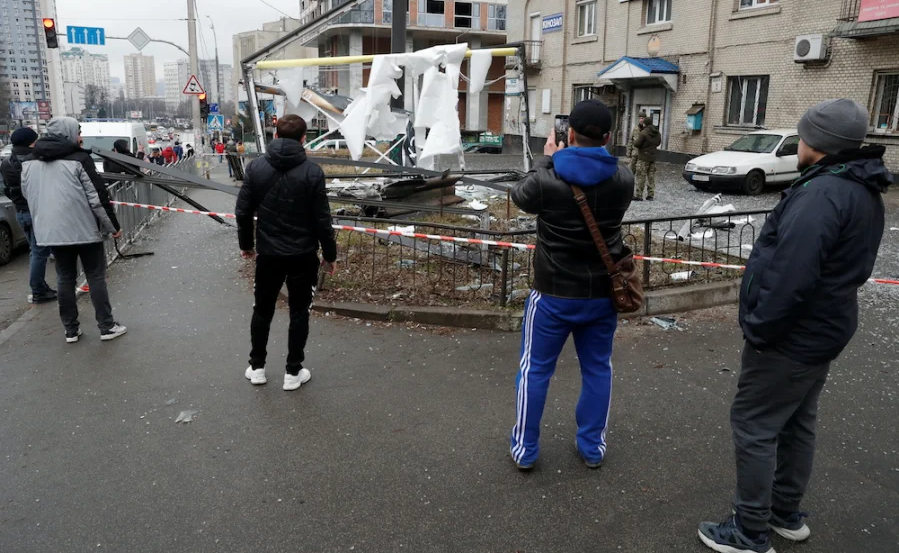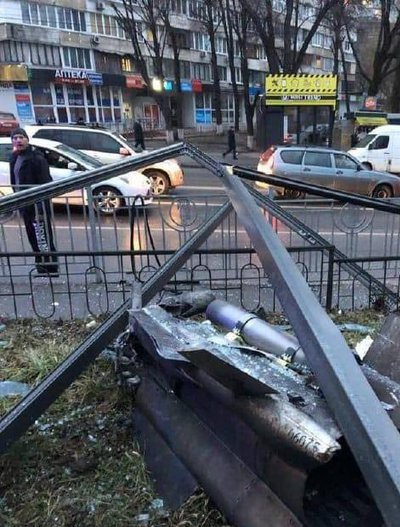 As it turned out later, the anti-aircraft missile shot down a russian missile above us. We live on Vasylkivska-2, and the remnants of the missile fell on Vasylkivska-3. Literally across the street.
The emotions were...indescribable. Then I've got really scared.
---
«The ñhechens won't go down to the subway now to cut us»
We reached the subway. People began to gather there. Some women started having panic attacks.
"By that time, I had already calmed down, because it was necessary to calm these people down, too. To explain to them that no ñhechens will go down to the subway now to cut us, as they shouted."
(author) Why did you think it wouldn't happen?
I spend most of my off-hours on Twitter. Most of my acquaintances and friends serving in the Armed Forces, in local defense units, are there, too. We came to the conclusion that no matter what happens, Kyiv is sufficiently protected. It cannot be taken over from the east, easily, and swiftly.
The russian occupiers' equipment that was in Kyiv the next day is too little. To take Kyiv, they would need to concentrate up to 100,000 soldiers and a lot of equipment around Kyiv. And the fact that even a thousand could break through on the outskirts of Kyiv would not be of great importance. My knowledge, what I heard, the experience I once had, serving in that stupid army in 2007…
Now I have a lot of respect for our Army, they are great and cool, and this has been going on for a long time. But back then I was painting borders, I was scooping up puddles around the headquarters. And that army I hate with all my might.
It was there that I started swearing and smoking cigarettes.
---
«If the chechens came down and started slaughtering, I'd say the same»
I tried to speak calmly and logically. I said, «With all my respect to you, but I very much doubt that it is in the priorities of those chechens or russian swines to climb down into the Holosiivska metro station, which is located in the south of Kyiv, in order to kill a couple of civilians with knives.»
I said that the main goal for them would be military units within the boundaries of Kyiv and the Government buildings in the Lypky neighborhood.
(author) But in Bucha, exactly such a massacre took place...
"Even if the chechens came half an hour later and started slaughtering, I'd say the same, I would calm people down because panic in the shelter is the worst possible thing."
Let people steady their nerves, have fewer heart attacks, and screams.
That's why I said: either stay in the subway or go to a normal bomb shelter under the district hospital.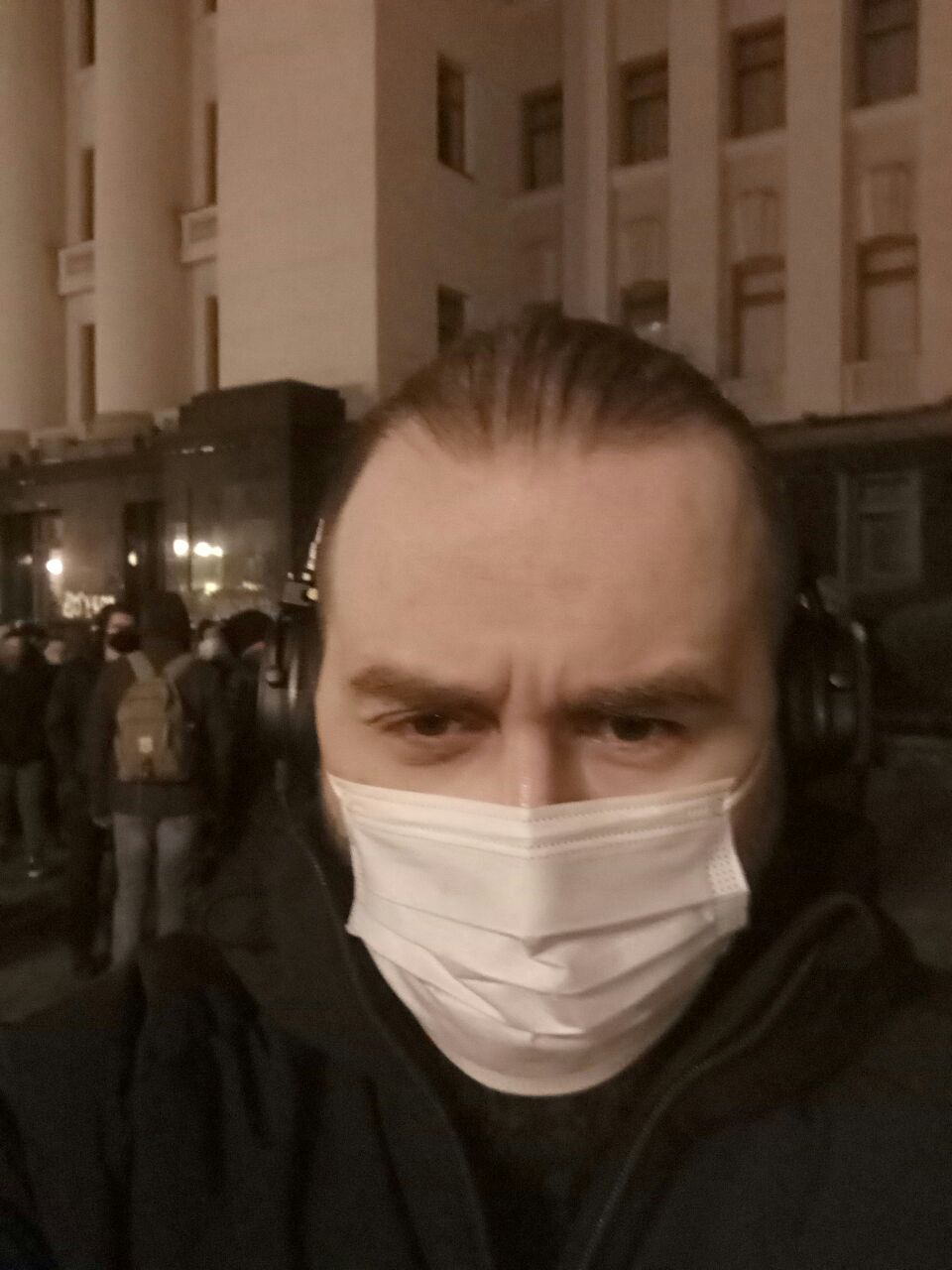 ---
«The missile exploded right in front of him»
Then my friend joined us in the subway.
"As it turned out, he, a fearless guy, made himself some coffee, went out on the balcony with a cigarette, and that very moment the russian missile exploded right in front of him. Our windows in the kitchen and the hall were blown out."
And after that, surprisingly, he got himself together very quickly and caught up with us in the subway.
We decided what to do next. We had the plan to get to my parents because they lived the closest to Kyiv among the three of us. And we went to the South bus station with the hope that there will be some buses still serving this morning.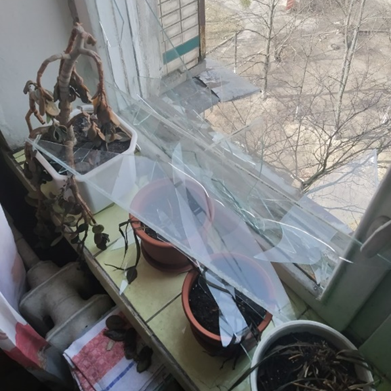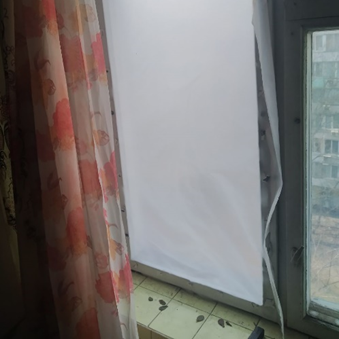 ---
The road by the shelled Vasylkiv
We were very lucky because there was a bus really going in the direction of Zvenygorodka. The driver picked us up and about five other people who managed to get to the bus station.
"It was a «funny» trip: the road from the bus station to my native Zvenygorodka runs near Vasylkiv, which was being shelled and bombed at that time."
But when we turned from Bila Tserkva city to the Tarascha and Zvenygorodka area, there we felt a little relieved.
The trip itself was uneventful but very emotionally intense.
---
The «nest» in the basement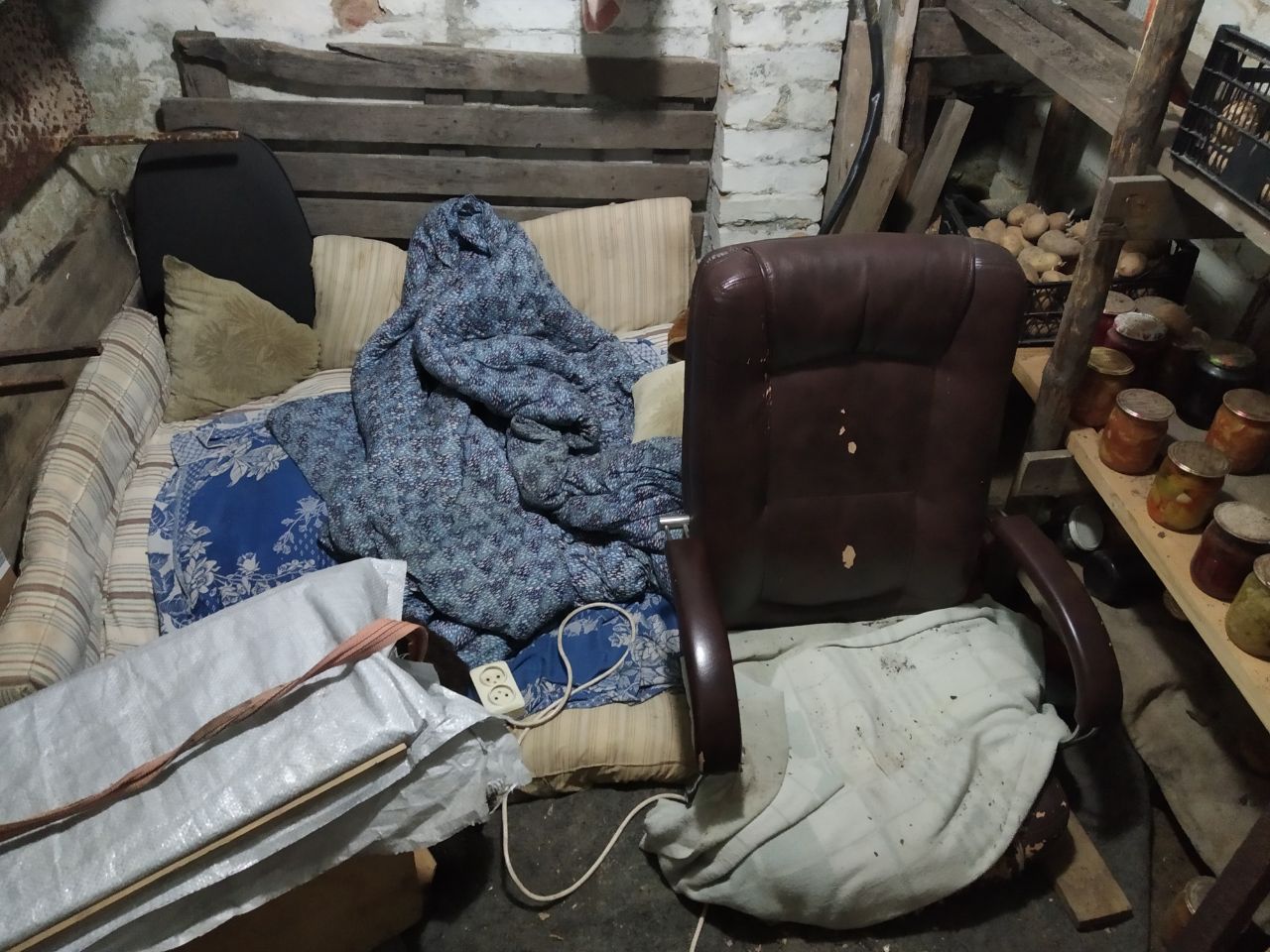 First of all, we called all acquaintances, friends, and relatives who were in Kyiv, Khmelnytskyi region, Chernihiv region to find out if everything is ok or if they're in danger.
We suggested they come to us.
Then I had to sleep.
"I was exhausted both physically and mentally, but in the first weeks I had almost no normal sleep."
A day later air-raid alarms started turning on. We made a «nest» in the basement and spent all periods of the air-raid alarm there.
---
The first week, the most difficult thing
The most difficult was my psychological state.
"I always considered myself a person who wasn't that emotional. I looked at situations from all sides, tried not to panic when I wanted to, and not to be too happy when I wanted to.

And then it became clear that no matter what understanding of the situation I have, there's still little control over my biological body."
There was such a wave when you fall into a terrible depression. Complete apathy, depression, fear, heart palpitations, tachycardia.
Literally, after an hour or two, this state changes to indifference towards danger, a feeling of my own huge strength. Like «give me a knife, so I'll go to the forest area to cut the russians out.»
And in another hour or two, it was replaced by apathy, a state of panic.
And this wave accompanied me for the first two weeks.
I took some sedatives, but I suspect it was a placebo: I just had to do something. And this feeling of own powerlessness and lack of understanding of what to do now also had an impact.
My friend, who was smoking when the missile hit, went to the local defense unit 3-4 days after arriving in Zvenygorodka.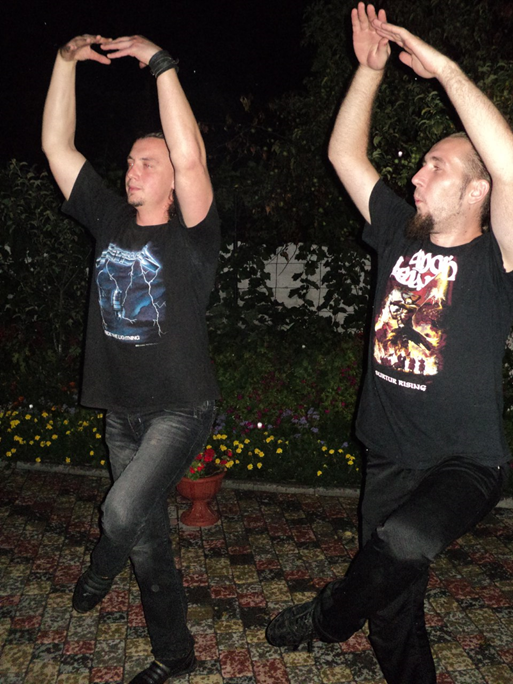 ---
«Thanks to Twitter, it calmed me a lot»
There were people who played the same role for me as I played for the women on the subway, they calmed me down.
They said russians wouldn't take Kyiv in three days, Ukraine would resist. And it gave me the energy to get out of this depression wave when it was the most difficult psychologically.
I was trying to work when the euphoria period started.
"Thank you to my clients: most of them texted me words of support at that moment. It was very rare that someone asked me to do something. But it was also good for me as it took me back to normal life. And at least for half an hour or an hour, I clicked these websites."


---
Messages from the Lizards
My colleagues Ihor and Kolya immediately texted me: am I all right, where am I?
I also texted others, asking whether someone from Kyiv needed shelter, so they could come to me. But some people already had «alternate airdrome», others wanted to go further, to the west.
But in any case, I was ready to give them a room or two to live in.
---
Three months later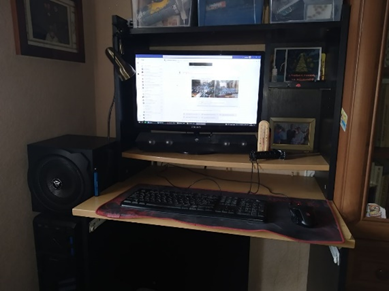 I considered myself a creature of habit. Before the full-scale invasion, I had structured my workflows and everyday life in a way that I was comfortable with. As soon as I had the energy and the opportunity, I did everything to return to the pre-war lifestyle.
I got back to the irregular working day I had before. If the Client messages me at 4 am, I respond.
"It turned out to be impossible to return to a usual everyday life: I constantly watch the news about the progress of the war."
I help our soldiers as much as possible. I am helping a friend who is already undergoing training at the local defense unit and may be sent to the front line. I help volunteers with fundraising.
---
Survivor syndrome
I tried to logically assess the situation, think through all possible scenarios.
I understand that I'm in the center of Ukraine, in a small regional city, where there is no industrial or military infrastructure. Therefore, «Iskander» is unlikely to hit me. And if a tactical nuclear warhead hits me, then it's destined. And there's no reason to worry about it.
I try to calm myself down with these thoughts, and it works.
"I am very worried about all the guys who are now on the front lines and all the people who are currently under occupation. I almost always have survivor syndrome: I'm ashamed that I'm not on the front lines, that I'm sitting in comfort, that I have the opportunity to eat three meals a day and eat whatever I want. While people in the South are starving under occupation, or the boys and girls sit in the trenches for weeks and months.

I'm helping with everything I can, but I have a feeling that it's not enough."
At the same time, even though I am 1.92 m tall and have 130 kg, and not all of it is fat, I understand that with the current state of my health, I cannot fight much. But if the Armed Forces call and say «it's enough to remain in the reserve, enter the military», I will.
---
«I've got to be really techie on almost all the world's military equipment»
I wasn't interested in it before at all. I couldn't distinguish the T-72 from the T-80 and the Abrams (ed.: different modifications of tanks).
Now I'm watching a bunch of videos, chronicles, docs, photos from drones about russian tanks exploding. I even began learning a little about small arms. And I've got to know better about military accessories.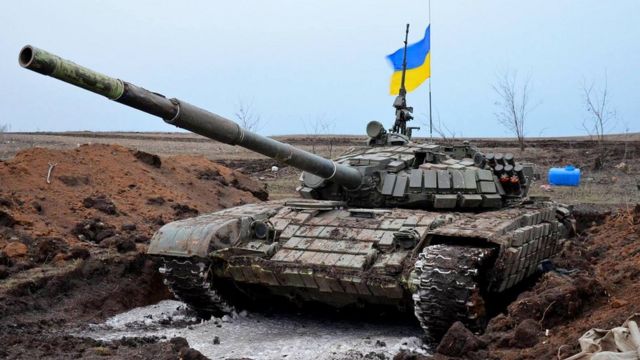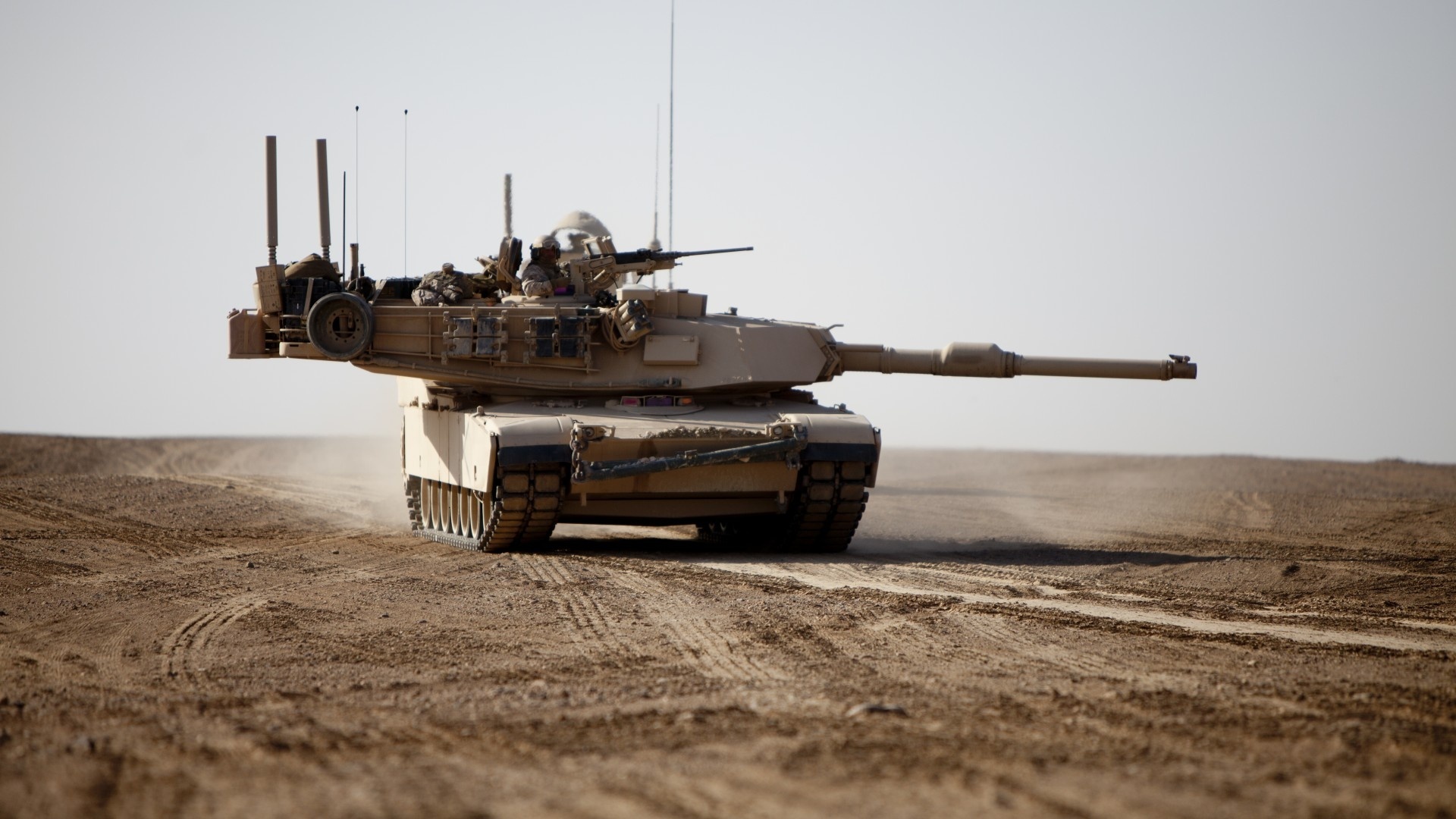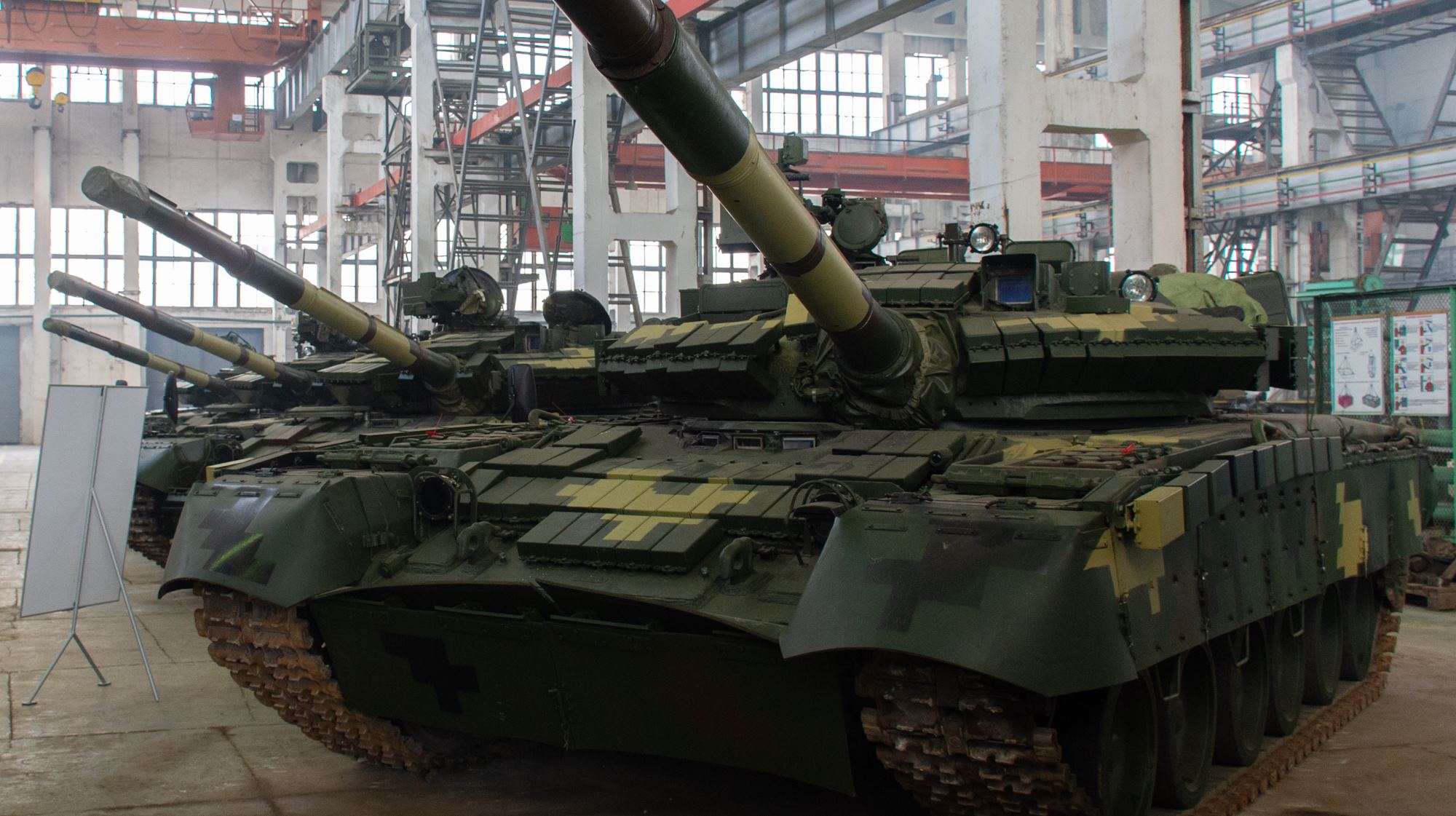 "In our local defense unit, we need knee pads, then glasses, then normal shoes to be found somewhere, then summer hats, because they still haven't got summer uniforms, and it's already starting to get hot. One day guys wanted a night vision device, and we need to find out which one would fit or not, and what are the pros and cons."
This is a subject I wouldn't like to dive into. But now I can't do without it.
---
After the Victory
"I've had a bottle of cognac since 2014. I was going to run out into the street and drink from the bottle like an ordinary redneck, not from a beautiful glass, shout and jump up."
Next, I will contact the guys who are currently fighting. I will congratulate them all. I will ask when they will have the opportunity to come to me, and we will sit on the bank of the river and make a barbecue.
For now, I don't plan to return to Kyiv. A few years after the Victory, I plan to remain here in the Motherland.
And to decorate my apartment. I am thinking of what color I will paint the walls, which laminated floor to get, which kitchen furniture to install, which bed I'd like, how my computer will sit. All this is far away from me now.
"But it's one of the exercises that helps me stay calm and hope for the best."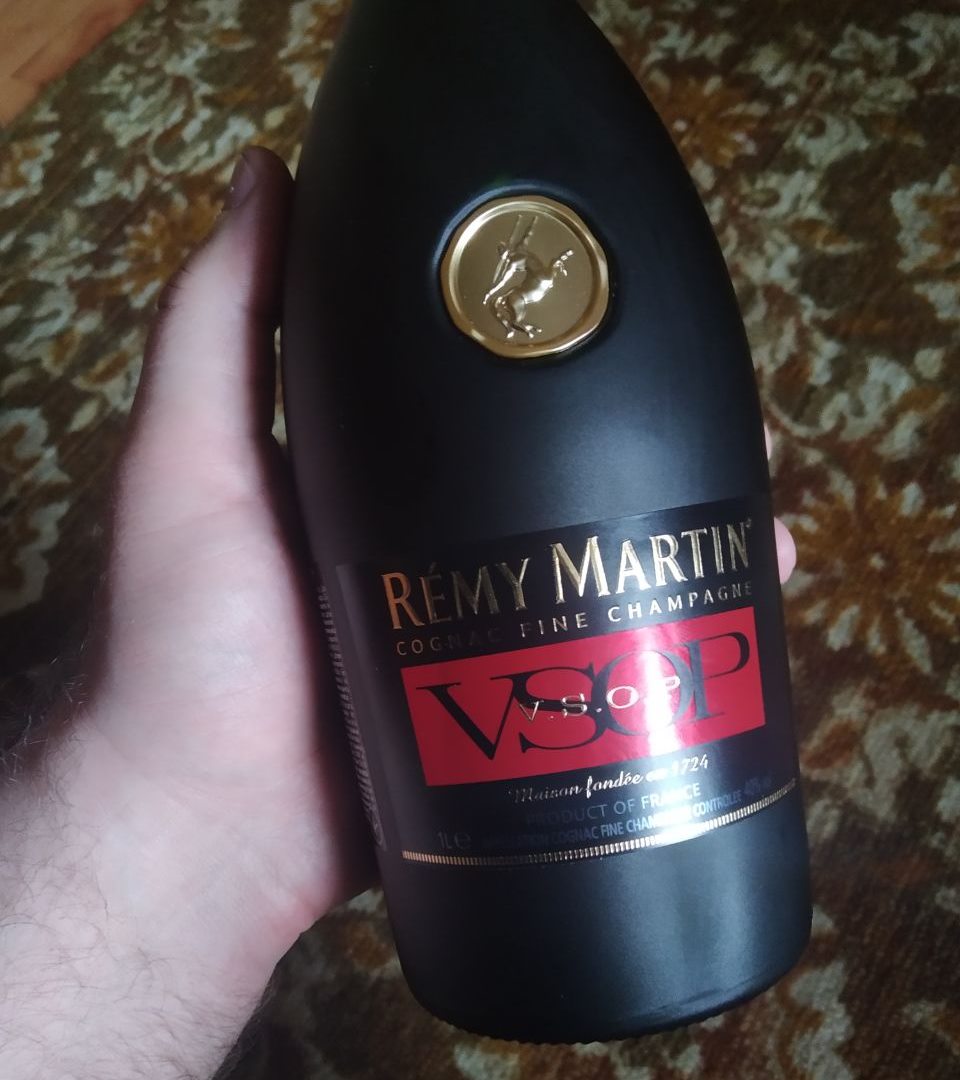 ---
Message to myself on February 23-24
On the 23rd, my parents came to visit me. They went to a rally near the Verkhovna Rada as they are very angry with our senator Hetmantsev (ed.: Chairman of the Verkhovna Rada Committee on Finance, Tax and Customs Policy). My father is a private entrepreneur, and he protested against the reforms introduced by this Hetmantsev.
If I had known at that time, what's gonna happen in a few hours, I'd have transferred many things with my parents to Zvenygorodka. Because literally 12 hours after they left, I packed only t-shirts, underpants, and socks in my backpack and took a science fiction book with me, because I thought that I'd be bored in the shelter.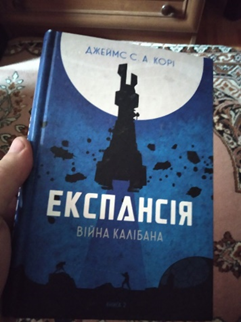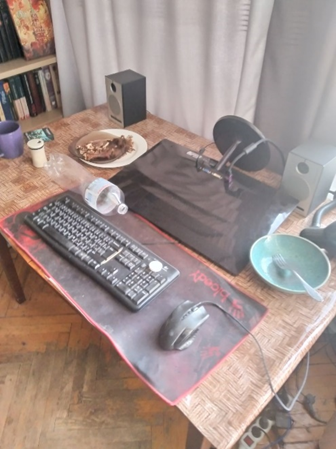 All things, including my army of soldiers, which I spent the last two years of my life for, had to be left in Kyiv.
And only yesterday (ed.: May 24, 2022) I was able to take it all with me.
That's strange but even though my things were in the apartment with broken windows for several months, almost nothing wrong happened to them. Though I was very worried about this. They only were covered with a layer of dust.
---
Message to the Lizards
First, I'm sure everything will be fine. I am sure that russia already lost. Although they don't understand it yet.
"I am sure, and these are not just words, that we'll break through and everything will be fine for us: both individually and for the Company as a whole."
After the Victory, Ukraine won't be forgotten, and Ukrainian products will be sold more actively. This is something I am absolutely sure of. Ukraine will not lose!
---
In conclusion
I've always called myself a nationalist. Not one of those nationalists who run around with kolovrats wearing an embroidered shirt. Rather, one of those who considered Ukrainians no worse than most civilized nations.
But after this large-scale invasion began, I realized that Ukrainians are much better than I thought before.
"Because this is how ordinary Ukrainians support each other, and our Armed Forces! And when I see that on Twitter within half an hour or an hour fundraising for thermal imagers or a batch of bulletproof vests finished, it causes strong emotions in me. Pride for us."
And it turned out that we are better than the Germans and the French. Ha! Losers!