Vasyl Grygoriev
Lizard Soft General Manager
Microsoft Corporation has improved the Microsoft Designer graphic design tool to such an extent that visual effects, social network images, various invitations can now be created simply by describing your need in the application. After processing this request, the Designer Artificial Intelligence will offer its vision in the form of a picture.
So that you don't have to switch from web pages to the Microsoft Designer app, it is now available in the Edge toolbar: you can type a post on a social network, move the mouse to the Edge sidebar, click on the Microsoft Designer icon, and get a suggestion for your post visual design. Next, just tap on the option you like, and it will be applied when you post.
This makes Edge the first and only browser with an integrated AI-powered graphic design application.
---
Artificial Intelligence for drawing, copywriting, and hashtags
Microsoft assures that it's extremely easy to manage the process of creating visual materials in the intelligent Designer tool. «Just type in a phrase that captures your thoughts and quickly get text suggestions— from headlines to short posts — with font suggestions to match your design.» In addition, AI in Designer will select options of captures and hashtags that are relevant on social networks and correspond to the selected design. It's also very easy to change the image sizes now, and it makes it an extremely useful feature, considering that each of the social networks has its own image size requirements. In addition, visual elements can be animated: the background, emotions, or text can move, and thanks to AI, transitions will be applied automatically.
---
The Microsoft Designer following features
The Microsoft Designer developers claim that very soon Users will be offered a number of indispensable features, such as: Fill, Expand background, Replace background, and Erase.
Fill feature: simply circle the location on your design where you want to place a certain item/character and type in the text line what exactly needs to be placed there. AI will process the request and insert what you wanted into the picture.
Expand background: at the User's request, the background of the picture can be filled with an attractive landscape that will frame the main plot.
Replace background: the background of your image can be changed. For example, if the photo was taken in the office, its characters can be «transferred» to the beach by replacing the office background of the image with a seaside.
The Erase feature will allow you to remove unwanted elements/characters from the photo if you simply move your mouse over that unnecessary object. Another image that will fill in the empty space will be created automatically and as close as possible to the background around the deleted object. So that there is nothing superfluous in your images!
---
How to try
You can test the Microsoft Designer preview version by visiting the Microsoft Designer website or by signing in to your Microsoft account. The previous web version of the app is deployed in Edge. It can be opened in the sidebar by clicking on the «+» icon.
The developers warn that the Microsoft Designer preview does not yet include all the announced features. The publicly available Microsoft Designer will remain free after its deployment. However, there will also be a premium version that will have an expanded range of features and will be available to Microsoft 365 Personal and Family subscribers.
---
The Designer is a one more tool from Microsoft that will make it much easier for at least marketers, communicators, and HR to perform their tasks. Now you don't need to delve into special, quite difficult-to-use visual editing programs to create bright content for internal or external communications. There's also no need to subscribe to and install a bunch of apps that measure the popularity of current hashtags or generate new ones. It's also much easier to actually create texts because inspiration is now powered by Artificial Intelligence in Designer.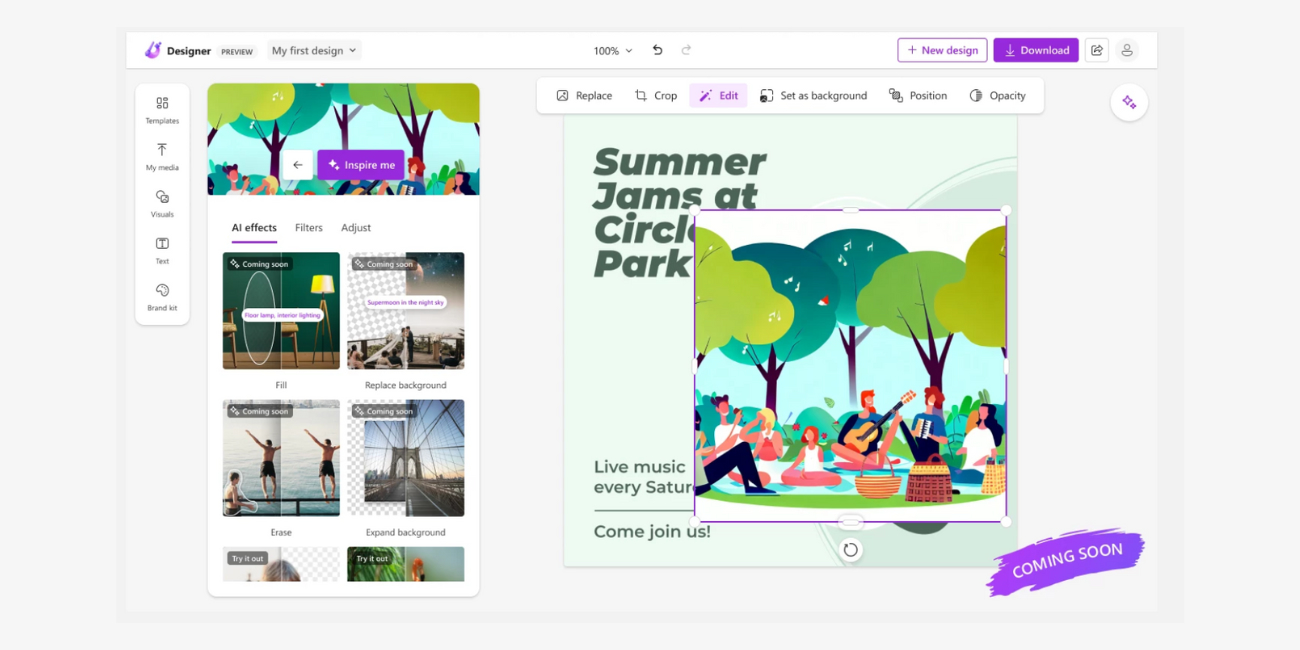 Lizard Soft as the Microsoft Certified Partner is happy to encourage our Clients to try new opportunities offered by the corporation! Not only will you test these intelligent tools, but you'll be able to improve them with your own feedback and suggestions.
Contact our experts to learn more about the intelligent Microsoft Designer and get inspired by its enormous possibilities!
According to Microsoft.com